The Book of Archives and Other Stories from the Mora Valley, New Mexico
Gabriel Meléndez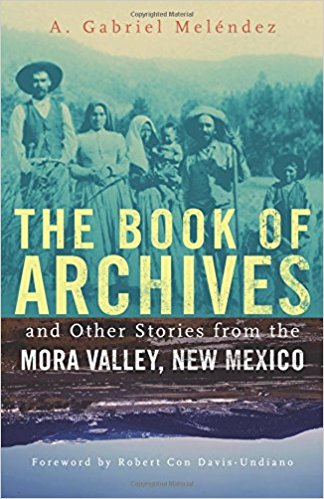 In the shadow of the Sangre de Cristo Mountains, New Mexico's Mora Valley harbors the ghosts of history: troubadours and soldiers, Plains Indians and settlers, families fleeing and finding home. There, more than a century ago, villagers collect scraps of paper documenting the valley's history and their identity—military records, travelers' diaries, newspaper articles, poetry, and more—and bind them into a leather portfolio known as "The Book of Archives." When a bomb blast during the Mexican-American War scatters the book's contents to the wind, the memory of the accounts lives on instead in the minds of Mora residents. Poets and storytellers pass down the valley's traditions into the twentieth century, from one generation to the next. In this pathbreaking dual-language volume, author A. Gabriel Meléndez joins their ranks, continuing the retelling of Mora Valley's tales for our time.

A native of Mora with el don de la palabra, the divine gift of words, Meléndez mines historical sources and his own imagination to reconstruct the valley's story, first in English and then in Spanish. He strings together humorous, tragic, and quotidian vignettes about historical events and unlikely occurrences, creating a vivid portrait of Mora, both in cultural memory and present reality. Local gossip and family legend intertwine with Spanish-language ballads and the poetry of New Mexico's most famous dueling troubadours, Old Man Vilmas and the poet García. Drawing on New Mexican storytelling tradition, Meléndez weaves a colorful dual-language representation of a place whose irresistible characters and unforgettable events, and the inescapable truths they embody, still resonate today.
Available for purchase here.